POWER Conference 2021
Caring for One, Caring for All
The 2021 Power Conference delved into the burning issues facing healthcare and the registered nursing profession, with expert speakers sharing their knowledge and insight on:
The COVID-19 Pandemic.
Supporting a culturally safe healthcare system.
Indigenous healthcare through the lens of truth and reconciliation.
Providing culturally safe, competent care to a culturally diverse population.
Below are highlights from the event, recorded and made available for viewing at any time.
Burning Issues in Healthcare: Panel Discussion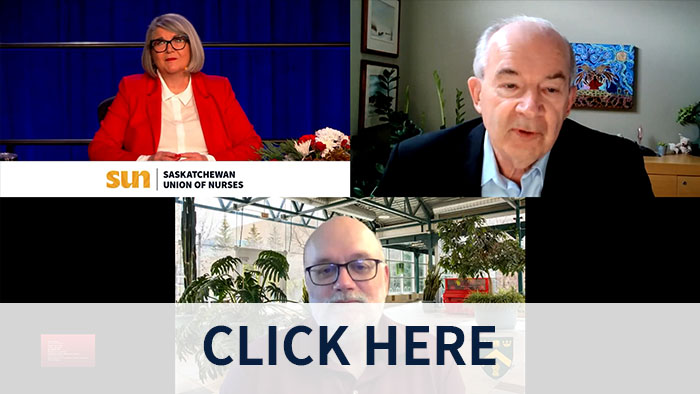 (Click the image to view the recording)
What are the burning questions in nursing, medicine, healthcare system, population needs & health policy we need to address? How do registered nurses advocate for ourselves, our patients, our healthcare system?
Moderated by: Tracy Zambory, SUN President
Panelists:
Dr. Tom McIntosh, Saskatchewan Population Health and Evaluation (SPHERU)
Dr. Dennis Kendel, Health Sector Consultant
Keynote Presentation: Acknowledging and Addressing Indigenous-specific Racism Within Health Care: Now What?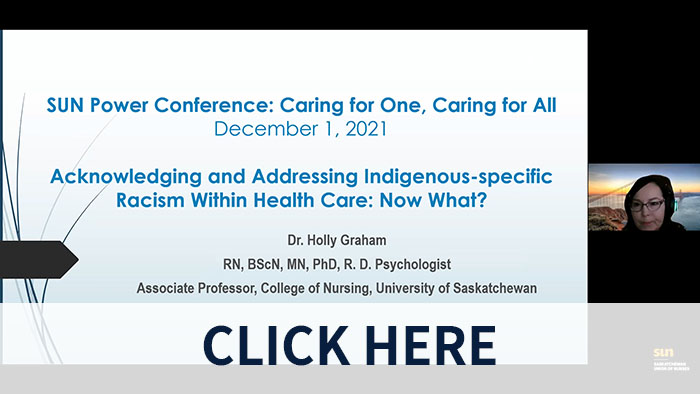 (Click the image to view the recording)
Understanding Canadian history, specifically the relationship between Indigenous and non-Indigenous peoples within health care, is an essential foundation for all health care providers. Undeniably, Indigenous peoples have received different treatment and care within Canada – now known as discrimination, racism, Indigenous-specific racism, which is perpetuated by systemic racism. With awareness, personal and professional commitment, nurses are best situated to create new narratives that embody respectful, safe, and competent care for all Indigenous peoples.
Speaker: Dr. Holly Graham, RN, Indigenous Research Chair in Nursing, College of Nursing, University of Saskatchewan
Reflections of a Nurse on Cultural Safey and Humility
(Click the image to view the recording)
Recognizing we are all at different places personally and professionally, with varied experience & knowledge with the intent to inform and update and provide tangible takeaways on cultural competence and culturally safe care.
Speaker: Dr. Anthony de Padua, RN, College of Nursing, University of Saskatchewan
Indigenous Health, Well-Being & Healthcare: Panel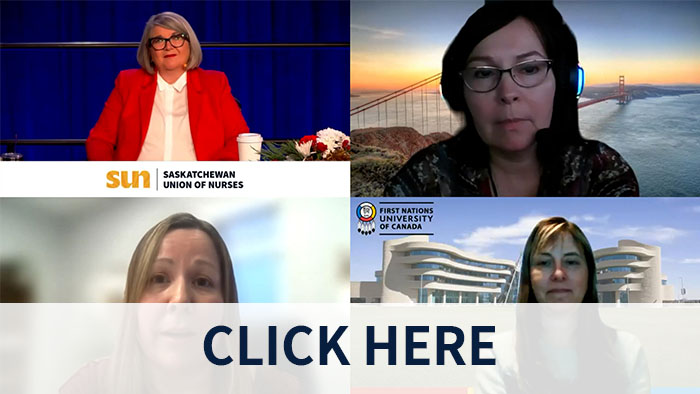 (Click the image to view the recording)
Panel conversation looking at the gaps, barriers and opportunities to address known disparities facing indigenous health, wellbeing and healthcare; bridging the gaps between Indigenous traditional health & well-being, and the western model of healthcare; leading examples and best practices; and how Saskatchewan's registered nurses are valued as allies, participants and activists.
Moderated by: Tracy Zambory, SUN President
Panelists:
Dr. Holly Graham, RN, Indigenous Research Chair in Nursing, College of Nursing, University of Saskatchewan
Dr. Carrie LaVallie, RPN, First Nations University
Valerie McLeod, RN, Senior Coordinator, Health Programs, Northlands College